CAMEROON: The Rebirth of Adventist Mission in Yemendang
CAMEROON
The Rebirth of Adventist Mission in Yemendang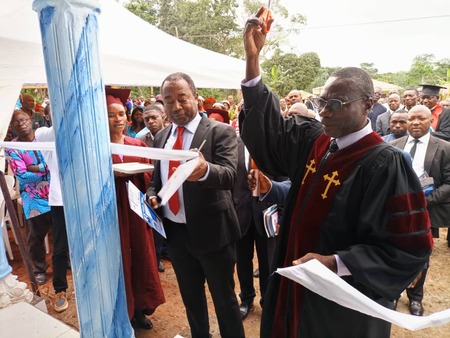 [Photo: Ribbon cutting by the President of the Central South Cameroon Conference and the Division officer of Bengbis, Janvier Mvoto Obounou]
The Adventist community in the district of Bengbis, South Cameroon region dedicated a new church building in Yemedang village. The ceremony took place on Saturday, November 19.
Nearly 1,000 people gathered in Yemedang, a village located seven kilometers from Bengbis in the South Cameroon region for the said ceremony. The president of the Central South Cameroon Conference of Seventh Day Adventist Church, Pastor Paul-Bernard AHANDA lead the celebration. Distinguished guests, including MFOPOU Aliyou, Division officer of Bengbis, Janvier Mvoto Obounou, Vice President of the National Communication Council of Cameroon, Pastors of the Presbyterian Church of Cameroon, Priests from the Catholic Church, the Chief of the Yemedang village and local political elites took part in the ceremony.
It was in 1958, two years before the independence of Cameroon that the first Adventist evangelist settled in Yemedang village. His name is Jean Obam Oyôn. He did the work of a pioneer there. An Adventist elementary school was opened in 1962. It had about forty students, supervised by two teachers, Gaston MEDJO and Mirabeau EVINA.
| | |
| --- | --- |
| [Photo: Pastor house] | [Photo: The new Church] |
The beautiful flame thus lit did not shine for long. The school buildings would fall into ruin and the missionary field would remain fallow. This was without counting on the fidelity of God, the Master of the harvest whose decrees are always fulfilled in spite of the duration of the circumstances. Sixty-four years after the arrival of the first evangelist in Yemedang, a temple with a capacity of 175 seats and a pastor's house stand proudly in the heart of the village. These gifts from MELINGUI NKOLO family, were handed over to the Seventh-day Adventist Church on November 19, 2022 during a solemn service presided over by Pastor Paul Bernard Ahanda.
| | |
| --- | --- |
| [Photo: Pastors and Members Procession] | [Photo: Special Guests] |
Beyond the dedication of a house of worship for God, it is the rebirth of the Adventist missionary work in Yemedang. A revival which is a reality, with the baptism of 19 souls after 10 days of evangelistic campaigns held by Pastor Blaise FEWO at Bengbis prison and Yemedang village.

Yangman Avom Armand Arnaud / Paul Williams OBOUN
Communication Cameroon Union Mission