Cameroon - Evangelism:LAUNCHING OF 1000 YOUNG MISSIONARY VOLUNTEER PROJECT IN THE CAMEROON UNION MISSION
Cameroon - Evangelism
LAUNCHING OF 1000 YOUNG MISSIONARY VOLUNTEER PROJECT IN THE CAMEROON UNION MISSION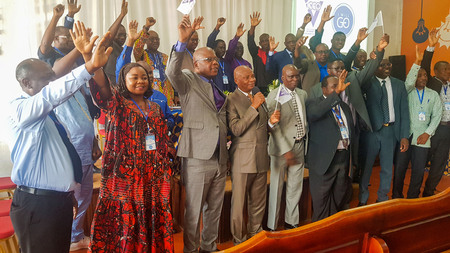 [Photo: rallying motto]
On the sidelines of the Year-End Council of the Union Mission of Seventh-day Adventists in Cameroon, held from Monday November 14 to Wednesday November 16, 2022, the closing day of this meeting made it possible to officially launch the recruitment and training of 1,000 Young Adventist missionaries volunteers.
The launching program of the project of 1000 young Adventist missionaries volunteers within the Union Mission of Cameroon took place in the Seventh Day Adventist Church of Yaoundé Center, on Wednesday, November 16, 2022. Everything begins with the explanations of the project by the Executive Secretary of the Union, Pastor Yenge Yenge Yenge Isaac. This project will cover the period 2023 to 2025. The objective is to recruit within the institutions and entities of the West-Central Africa Division 1000 young volunteers. The relevant age group is 18 – 79 years old. The first wave of a total staff of 300 volunteers is planned for the year 2023. Recruitment will continue to reach the goal of 1,000 volunteers by 2025. The Division Associate Secretary, Elder FALAYI Frederic then intervened to further explain the project based on the constituent elements of its logo.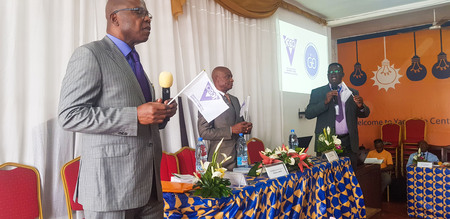 [Photo: Explanations by Pastor Yenge and Anc Falayi]
The launching team for this project was made up of representatives of the Division who came to supervise the Year-End council 2022, the administrators of the Cameroon Union Mission, the delegates and the fields' Presidents and Institutions'leaders. Prayers for the success of this project were said by Honorary Pastor Jean Emmanuel NLO NLO and the President of UMCM, Pastor Valère Guillaume ASSEMBE MINYONO. The closing of this program consisted in chanting the rallying slogan "I will go" in different languages, taken up in chorus by the assembly. We were able to say it in English and French, but also in national languages such as Yébekolo, Douala, Mafa and Fulfuldé.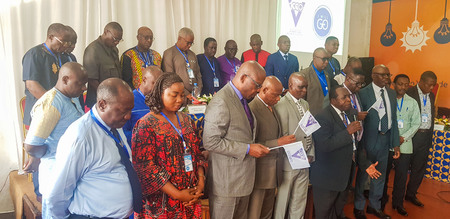 [Photo: Pastor NLO Prayer]
Yangman Avom Armand Arnaud
Communication Cameroon