Cameroon - Evangelism:MOBILIZATION MEETING FOR PENTECOST 2023
Cameroon - Evangelism
MOBILIZATION MEETING FOR PENTECOST 2023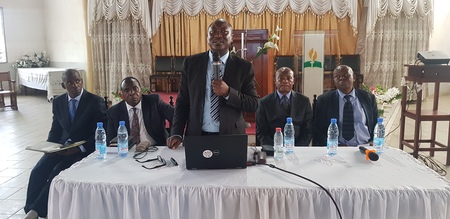 [Photo: Intervention Pastor SAME]
The Director of the Sabbath School and Personal Ministries Department of the West-Central Africa Division, Pastor Vincent Roger SAME held on Sabbath November 19, 2022 a mobilization meeting of Adventist members of the city of Yaoundé, as a prelude to the Pentecost 2023 evangelization project.
The said meeting was held in Djoungolo II Seventh-Day Adventist Church in Yaoundé. Invited were those responsible for evangelism, personal ministries and Sabbath School from the churches of the city of Yaoundé. The purpose of this meeting was to present the division's membership growth vision to achieve the one million membership goal, and to mobilize members to prepare for the Pentecost 2023 evangelistic campaign, which will be one of the means to achieve this growth. For the Cameroon Union Mission, it is a question of going from simple to double, currently 125,000 members to 250,000 members in 2023.
The opening prayer was said by Honorary Pastor Jean Emmanuel NLO NLO and that of the agenda and the introduction of the main speaker by Pastor Valère Guillaume ASSEMBE MINYONO. Pastor Vincent Roger SAME presented in the introduction the vision of growth of our Division to reach a membership of one million members by November 2023. Three countries of the West-Central Africa Division have a leading role to play in achieving this objective. These are Nigeria, Ghana and Cameroon. This growth project will also make it possible to split Cameroon into two unions. We must therefore refocus on the mission according to the orientations of the world church.


[Photo: Intervention Pastor NLO]
What is the method to follow, the EDS/MP Director of the DAO recommends seven ways to implement: Be intentional (that is to say, to be known and to be heard), total involvement of the members, adopt a lifestyle that honors God, informing oneself, equipping oneself, knowing one's abilities, deciding one's future and deciding on the means to be used. Principles to be followed revolve around spiritual awakening, training and equipping church members, implementing community service, sharing the word of God through various channels of communication, nurturing and monitoring members, and applying Christ's method of evangelism.
The floor was then given to Honorary Pastor Jean Emmanuel NLO NLO. His intervention aims to share his experiences in the field of evangelization with the audience. He emphasized on two key elements for success in evangelism: believing and obeying, and keeping in mind our identity as children of God. He recommended lots of prayer, interceding for specific people, forming teams of missionary pairs, taking time to prepare the ground. He also presented his experiences as former Director of Evangelization of the former Africa Indian Ocean Division, particularly during evangelistic campaigns in Rwanda, Cape Verde and the Seychelles. Pastor Jean Emmanuel Nlo Nlo ended his remarks with an appeal to members who attended to get involve in year 2023 evangelistic projects. This commitment was consolidated by the prayer of Pastor Valère Guillaume ASSEMBE MINYONO.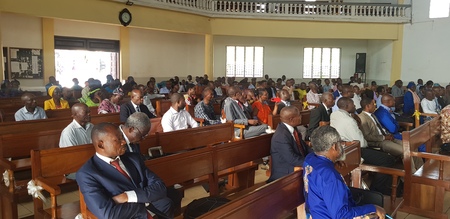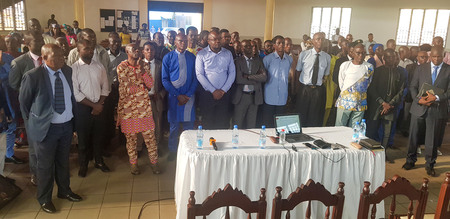 Yangman Avom Armand Arnaud
Communication Cameroon