Cameroon Union Mission. Mbam-Sanaga Conference honors her new financial administrator.
Cameroon Union Mission. Mbam-Sanaga Conference honors her new financial administrator.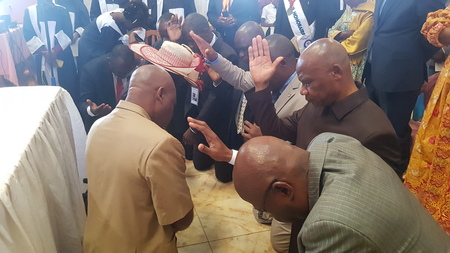 The closing ceremony of the 2021 End-Year committee of Mbam-Sanaga Conference of the Seventh-day Adventist Church gave room for the setting up of the new treasurer of the Conference in the person of Elder Mvondo Obé Emmanuel on February 05, 2022, in Nanga-Eboko.
The biography and service record of Elder Mvondo Obé Emmanuel, presented by the Executive Secretary of the Cameroon Union Mission, Pastor Yenge Yenge Yenge Isaac, reveals that Mr. Obé Emmanuel was born on January 13, 1962 in Zoulou in the locality of Endom in central Cameroon. Married to Simengono Hortense, he is the father of 03 children. He did his graduate studies at the former Adventist Seminary of West Africa in Religion and Business Administration. His professional career led him to serve as financial administrator of the Adventist health center vie et santé of Yaoundé, the Adventist College of Kribi and Maranatha Adventist College of Yaoundé. He has also been Education Director then cashier of the Central South Cameroon Conference and treasurer of the administrative unit of Nyong-Afamba. Since February 05, 2022, he has been appointed as the new treasurer of Mbam-Sanaga Conference, taking over our beloved sister Eyenga Nadine who lost her life in a car accident.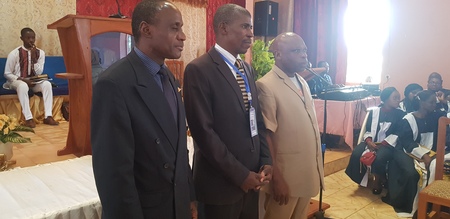 The Treasurer of the Cameroon Union Mission, Pastor Boné Jean Jean presented to the new treasurer his specifications which include among others: The supervision of the financial operations of the Conference and its institutions, the monthly presentation of the financial statements to the Conference board; collect and redistribute all funds regularly to higher institutions accordingly. He ended his remarks by stating that the professional experience of the new treasurer shows that he is up to the task entrusted to him.
The Executive Secretary of Union, then taking the floor, reminded the newly appointed treasurer of some fundamentals of the Adventist Church administration. He insisted on teamwork where everyone recognizes and plays their role, the unity of the administrative team through consultation and collaboration and cooperation.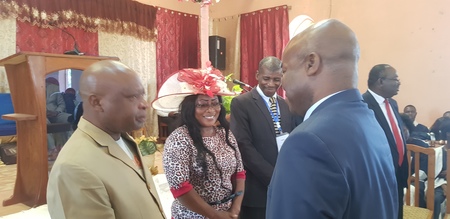 The consecration prayer was said by Pastor Nang Ngba Timothée, Secretary to the Ministerial Association of the Cameroon Union Mission followed by the handshake of congratulations by the authorities, in particular the Sous-Préfet of the Haute Sanaga department, in the central region of Cameroon.
Yangman Avom Armand Arnaud
Communication Union Mission of Cameroon