GREAT YEAR-END MEETING OF THE WEST-CENTRAL AFRICA DIVISION LEADERS.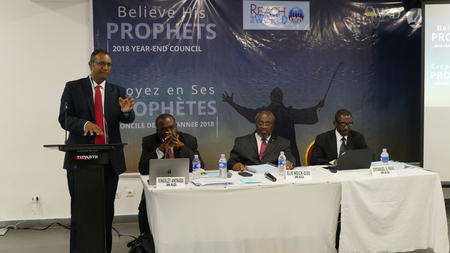 [Photo: From left to right - Ps. Hensley Moorooven, Ps. Kingsley, Ps. Elie Weick-Dido and Elder Manu]

The administrators of the West-Central Africa Division and all Presidents of Unions and heads of the different institutions met in Abidjan, Côte d'Ivoire, from 5 to 7 November 2018. The theme of this meeting was " Reaching the world: Faithfulness to His Prophets". The participants, who came from the Division territory but also from the General Conference, met at Hotel le Vaisseau to evaluate the activities of 2018 and plan for that of 2019.
Indeed, for the assessment of their activities, leaders from the Division, presidents of the 10 Unions and the heads of institutions (Universities, ADRA, Publishing houses ...) gathered in Abidjan, Côte d'Ivoire, at Hotel le Vaisseau from November 5th to 7th, 2018. This 3 days meeting allowed participants to present their various reports, to exchange and make plans for 2019 for the success of the mission. Aware of the challenges they faced, Seventh-day Adventist Church leaders decided all together, to improve on workers life conditions, but also determined to set up strategies to win souls and prepare them for salvation.
In this same line, Pastor Hensley Moorooven urged participants to be courageous when things are becoming difficult to bear. From Acts 27: 21-26 "We had not eaten for a long time. Then Paul, standing in the midst of them, said to them, O men, you must listen to me and not leave Crete, to avoid this danger and this damage. Now I urge you to take courage; now I exhort you to cheer up, for there will be no loss of life among you, but only the ship... we must run aground on a certain island", he pleaded with his colleagues not to give up. According to him, as long as we are united, nothing can disrupt our mission and our salvation. Using this opportunity, Pastor Hensley reminded his listeners why we are Seventh-day Adventists. He explained that, our identity is confined in the name Seventh-day Adventists; because we believe in the six literary days of creation, we keep the commandments of God and have the faith of Jesus Christ, but more than that, we also have the assurance of his imminent return.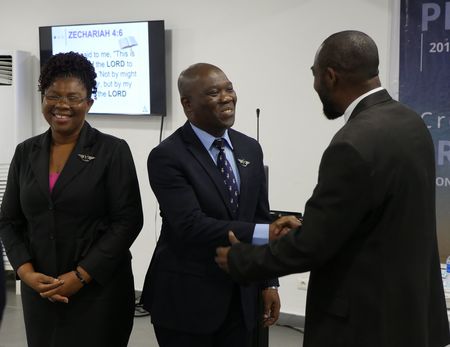 [Photo: GC honored Ps. Selom Sessou and Sister Stella Love Drah]

This meeting had exceptional moments for some workers who received a distinction from the General Conference for a work well done. These are Pastor Selom Sessou and Sister Stella Love Drah of the Division Secretariat who were honored for Service well rendered in the Secretariat Department.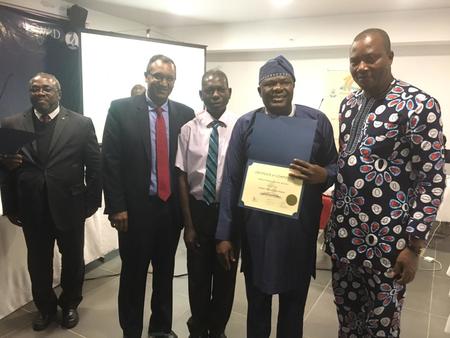 [Photo: Presentation of certificate to Pastor Oyeleke Owolabi.]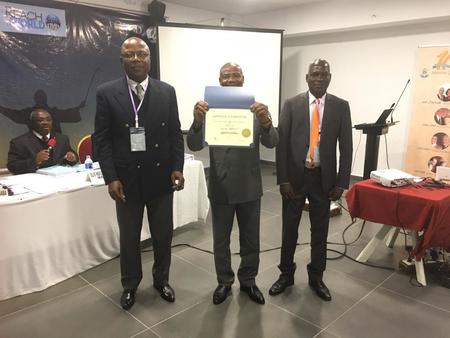 [Photo: Presentation of certificate to Pastor Valère Assembe.]

In addition to these two workers, Pastors Valère Assembe and Oyeleke Owolabi, respectively, Presidents of the Cameroon Union Mission and the Western Nigeria Union Conference also received a Certificate of Completion of the Evaluation of the General Conference Secretariat.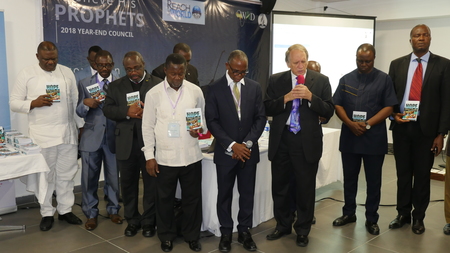 [Photo: presentation of the book of the year 2019]

During this meeting, the book of the year "Hope for Today's Families" was also presented to participants by Pastor Obaya, Director of the Publishing Ministries. 7000 (thousand) copies of this book were purchased on that very day and out of these, one of the leader who came for the meeting purchased one thousand copies.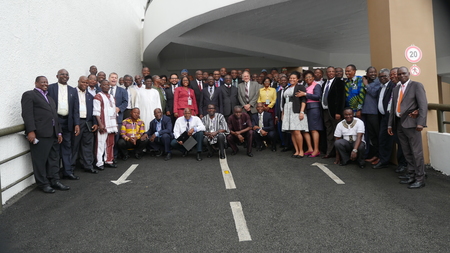 [Photo: Family picture]
WAD Editors