Adventist men stand up to build
SOUTH CENTER CAMEROON (South Center Conference): Adventist men stand up to build.

[Photo: OHA Family picture / Photo de famille]
The Organization of Adventist Men (OAM) of the SCC held its first congress from 14 to 18 August 2019, at the Technical High School of Sangmelima, a locality located at 170 km from Yaoundé.

[Photo: OHA Pastor Bone's presentation / Presentation du Pasteur Bone]
The congress project comes through after a real battle with men. One hundred of them have abandoned their occupations for this meeting of teachings and exchanges. The theme "Faithfulness to His Prophets in the Search for Growth" has been developed into several sub-themes. The facilitators presented, among other subjects, Adventist partnerships, Christian entrepreneurship, keys to blessing, member self-sufficiency (Rwanda and Kenya case), investments and projects, and mark of the Adventist Church.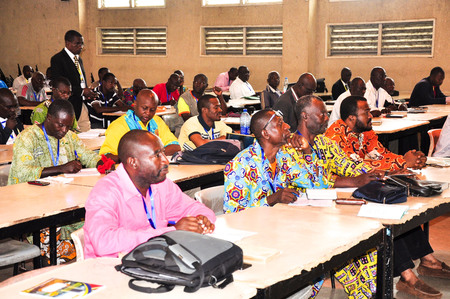 [Photo: OHA Participants inside / Les participants]
In addition to these moments of study, the participants spent great moments of prayer and meditation. The setting in which the congress was held, being away from the noises of the city, fostered a real communion with God. The delegates to this congress were not just men only, some women came to support in cooking and as well as taking care of the media coverage. It is a remarkable combination of genders to actually build for the Lord.
Brother Jean Félix Eboua Essam, director of the OAM in the SCC and his team are happy on how this congress was held and expect on a larger mobilization of the Adventist men for the development of the Adventist Church in Cameroon at large and especially in the Conference concerned. A number of projects have been considered to mark the implementation of the shared vision during this congress. Adventist men, long behind, stood up with this slogan: "Men for Christ, let us rise and build for the Lord! There is no shame in following our women in their zeal Christ. This, men in central and southern Cameroon have understood.
Abraham BAKARI
Cameroon