Communication summit for Directors in Nigeria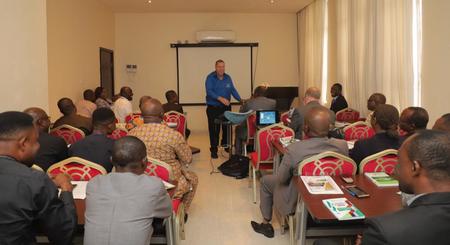 [Photo: Workshop training]

Over 24 participants attended a two-day Communication summit with a resolve to change the narrative of news reporting of the Seventh-day Adventist Church in Nigeria.
The 2019 summit with the theme, Agenda Setting for Dynamic Communications Ministry in Nigeria, was organized by the West-Central Africa Division Communication Department Director, Pastor Irineo Koch and was held in collaboration with the three Unions comprising the Adventist Church in Nigeria.
Besides honing communication and reporting skills, the summit which took place at Babcock University, also proffered fresh opportunity for cross fertilization of ideas.
As participants deliberated on a way forward plan to provide a clearer view of God's work in Nigeria to the rest of the world, the Communication Director emphasized the need for diligence in reporting to avoid other pitfalls such as infringement of copyrights.
He observed that the predominance of information in the public domain and social media has made the need for double checking facts and sources imperative. He therefore appealed to leaders saddled with the responsibility of disseminating information to apply due diligence in getting copyright approval before reporting.
"When in doubt, consult the lawyer" he said. "Testimonies, photos, music, sermons each need copyright authorization."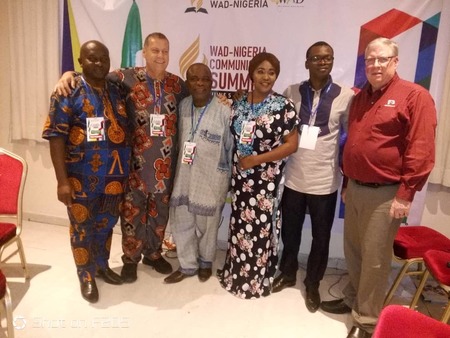 [Photo: Family Photo with Joe Sloan]
The Director of International Development at Hope Channel Headquarters in the USA, Joe Sloan, who was a co-facilitator, also gave other guidelines on dynamic television production.
He said though Hope Channel was on the top four charts of viewers' preference in the Kenya and highly rated in the US, prospective producers of programme content must keep an eye on quality and attention to details.
Chigozie Eti Communication Director from Eastern Nigeria, gave a presentation on branding and use of pictures, logos and related materials on church publications.
The President of the Western Nigeria Union Conference, Pastor Oyeleke Owolabi, together with the Babcock University Vice Chancellor, Prof. Ademola Tayo, encouraged participants to maximize the opportunity of the training to expand their knowledge base and impact.
"Communication is life," said Pastor Owolabi. "You and I have been given a message to a dying world, we need to communicate the love of Jesus to the world and impact lives."
"I found the programme very educative and informative," said the Ogun Conference President, Pastor Sunday Ogunsanya who was present at the opening session.
For Tony Achi, Associate Director of Communication and participant from Western Nigeria Union, the training was both timely and informative.
Expressing appreciation on behalf of participants, the Western Nigeria Union Conference Communication Director, Mrs. Nelly Onwuchekwa presented copies of the Union magazine's maiden edition, Insight and t-shirts to the facilitators.
She also thanked participants for their cooperation and commitment in ensuring that the resolutions would be translated into achievable goals.
[Photo: Family Photo]
Sister Nellie Onwuchekwa, Communication Director of Western Nigeria Union Conference,
gave this evaluation of the Communication Summit in Nigeria:
"My Dear Pastor Koch,
Thank you very much for what you did for us. We appreciate your love and dedication in ensuring that the Unions in Nigeria move in a positive direction. It was a busy as well as exciting time we had - you made it a fun-filled learning experience. Your commitment to the work is infectious.... and we did promise to follow your lead. On behalf of the Communication Ministry in the 3 Union Conferences in Nigeria, we say a big THANK YOU to you."
Ms. Josephine Akarue,
Deputy Director, 
Communication Department,
Babcock University,Ilishan-Remo,
Ogun State, 
NIGERIA.