Leadership Development Workshop for treasury workers of the West-Central Africa Division.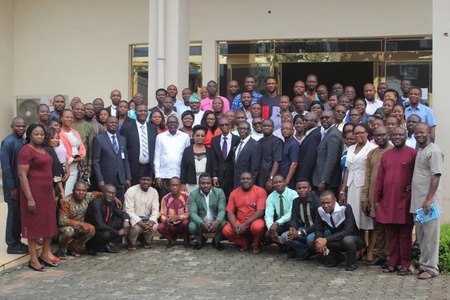 [Photo: Family photo]

Babcock University hosted from June 24 to 28, 2019, the second gathering of treasury staff of the Division in Nigeria under the theme: Leadership Development for Treasury workers.
This meeting took place in a context of conviviality and training in order to revitalize not only the staff, but also and especially the system.
The first of its kind was held in Kumasi, Ghana and brought together administrators and treasury staff of the two Unions of Ghana and those of the Eastern and Western Sahel Unions.
During this second meeting, the exchanges between participants were fruitful and enriching. The subtopics presented allowed the various delegates to make an in-depth analysis of each entity and consider new perspectives to face future challenges.
This meeting brought together 19 delegates from the Nigerian Unions and the treasury staff of the Division headed by Elder Emmanuel Manu, Treasurer of this Division. The purpose of this meeting was, according to Elder Manu, to make known the work of the treasury and understand it better: "Many people do not really know the work we do at the treasury and do not even understand it. Therefore, it is always important that we share our knowledge with our brothers and sisters who seem not to understand us. These workshops came at the right time because they will help us to prepare our staff to serve others appropriately. "
Indeed, 16 sub-themes were on the agenda. Unfortunately, one could not be presented because of the bad network; the speaker was to intervene from Ghana via the internet. Overall, the meeting «was a success and all the participants really appreciated the quality of the training they received" according to Elder Afolayan, one of the Associate Treasurers of the Division. For him, this meeting "was very rewarding and the various delegates who attended were really educated and empowered to better serve the treasury. »
The next meeting is scheduled for from now till the end of the year in Cameroon, in the Central Africa Union Mission.
WAD editors.