Babcock University : News report from babcock university
"BE A COMFORTER" , DR. DELBERT BAKER CHARGES PHOENIX GRAD CLASS.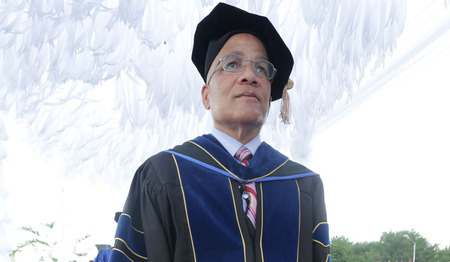 [Photo: Prof Delbert Baker]
In a world of pain and search for answers to problems, how can one rise above the despair and bring comfort to others?
The 2019 valedictory service speaker, Dr. Delbert Baker raised this concern as he presented the sermon, Babcock Band of Comforters to the Phoenix Graduating class and the University community June 1.
"You are entering an elite group in the world. You must be ready to embrace pain as well as joy," said Dr. Baker, President/Vice Chancellor of Adventist University of Africa, Nairobi, Kenya. "For it is in confronting and rising above these trials you can comfort others just as Christ comforts us in our distress."

 His message stressed on the need to understand pain and temptations for what they really were - short term crucibles refining people for greater things.
According to him, in experiencing pain, we are better equipped to comfort others.
He added that life's paths had several detours; whilst some were self-imposed; others were imposed by others while some are imposed by life."
He recommended several strategies to achieving a positive response to life's stressors. One is knowing God, the source of true comfort as well as keeping a network or band of comforters.
"You must be in touch with the band of brothers and keep a list of people who can be there for you," he said.
 BOSS MUSTAPHA INSPIRES BABCOCK GREATS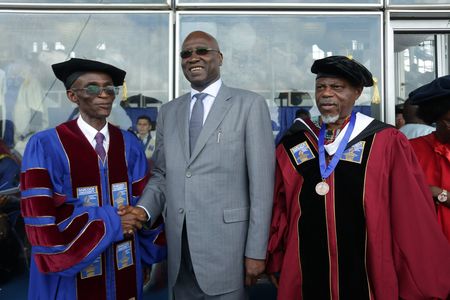 As Babcock marked its 7th undergraduate and 8th convocation ceremony June 2, 2019, Nigeria's Secretary to the Government of the Federation, Hon. Boss Mustapha charged the graduates to go out to the world and do great exploits.
The SGF who arrived the ceremonial grounds in a helicopter as a parent, said he had no regrets in bringing his daughter to an institution that combined "spirituality and learning" in training students.
He recalled that what caught his attention on arrival with his daughter four years ago, was the serenity and well-laid lawns of the campus.
"Today, I can see great leaders in the Babcock graduates," he said.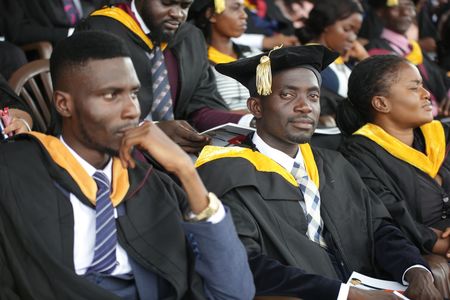 A total of 2,298 students graduated with honours from various fields including 103 doctoral candidates. Amongst which 62 graduated with first class honours.
Like last year, the School of Education and Humanities produced the overall best student, Edafe Dogo-Bawa. She made a 4.97 CGPA in Business Education; whilst Ebunoluwa Oluwadara from History and International Studies clinched the award for the best at the Masters level with a 4.92 CGPA. Adewunmi Sodeinde made the best result in the PhD category with a 4.55 CGPA in Mass Communication.
President/Vice Chancellor, Prof. Ademola S. Tayo, reminded the graduands that their future would be determined by what they chose to do with the knowledge and values acquired in Babcock.
He also urged them to sustain the "tenacity of purpose" which brought them thus far.
""Your destiny is in your hands," he said. "Some tripped on the way. But here you are, decked in your ceremonial robe."
 "The robe is worn only by those who are imbued with exceptional character and capability to change the course of events for the progress of the society."
A high point of this year's convocation was the award of honoris causa on Nigerian historian and Professor of African Studies, Prof. Toyin Falola as well as former Comptroller General of Nigerian Customs and Gbong Gwon Jos, HRH Jacob Gyang Buba.
In recognition of his contribution to national development, former Nigerian President Olusegun Obasanjo, decorated the Gbong Gwon who is also a Seventh-day Adventist, with the prestigious Officer of the Federal Republic, OFR award.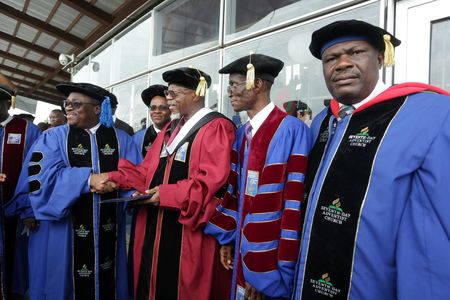 Prof. Falola has supervised over 100 doctoral students and served in over 170 PhD committees. Besides his numerous publications, Prof. Falola founded the Toyin Falola Centre for the Study of Africa. In his commencement speech, Faith, Fact and Fiction, Prof. Falola commended BU for creating an educational and moral community that impresses it on students to "learn and leave behind their crude social habits."
To the graduands, he said, "Keep your faith: it is the source of your strength. Keep your fact: it is the source of your knowledge. Keep your fiction: it is the source of your imagination." 
The Phoenix Grad Class President, Uche Ofili, captured his parting shots thus, "If they ever tell my story, let them say I walked with giants. Let them say I graduated with the Phoenix Class and was shining with grace."
CPGS RECORDS THE HIGHEST NUMBER OF GRADS IN SEVEN YEARS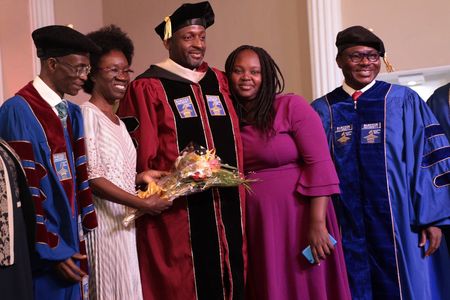 Dr. Rachel Babalola71, of Public Health Department, emerged the most senior graduate as the College of Post graduate Studies recorded the highest number of graduates in seven years as it presented 103 candidates for doctoral hooding, May 30.
This year's figure is the highest recorded since the College turned out the first batch of 42 doctoral graduates in 2012, beating last year's record of 93 by 10 with Babcock University staff making up 19% of the graduates.
For the first time, the Accounting department recorded the highest number of graduates with 24 beating Business Administration and Information Resources Management to the second place with 20 graduates each.
The Political Science and Mass Communication departments recorded the third and fourth highest number with 14 and 10 from Mass Communication candidates respectively.
President/Vice Chancellor, Professor Ademola S. Tayo said all doctoral candidates met the mandatory requirement of publishing a minimum of two journal articles in high impact Category A or B rating peer-reviewed journal within the time frame.
Similarly, he revealed that Dr Emeka Okoro of Biochemistry, won an Academy of Science grant for his benchmark work in the course of the doctoral program.
"Today, you are officially recognized as efficient and capable of working independently in your disciplines," he stated. "Undoubtedly, your celebration is the fruit of academic industry and a never giving up spirit."
While recognizing the Provost, Prof. Yacob Haliso and his team for their role in the Babcock success story, Prof. Tayo urged the graduands to demonstrate the individual strength of character to tackle wide-ranging problems facing mankind.
Professor Haliso thanked the Babcock administration for the opportunity to serve. 
Josephine Akarue